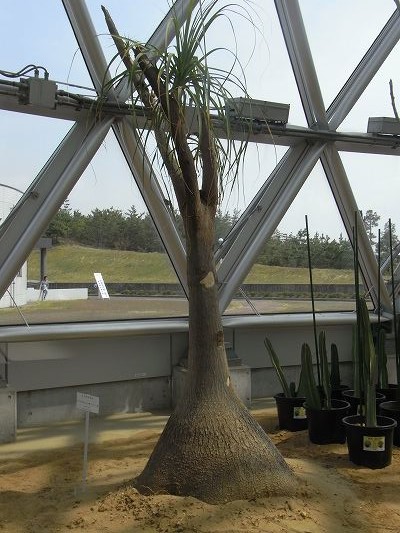 Family name: Asparagaceae
Japanese name: TOKKURIRAN
English name: ponytail palm, elephant's foot
Scientific name: Beaucarnea recurvata (Nolina recurvata) 
Country of origin: Mexico
Description

Evergreen tree 4–15 m in height, and when mature, the lower part of the stem enlarges to as much as 2–2.9 m. Leaf width is 1.3–2.5 cm and length 1–1.5 cm; the leaves form a rosette. Dioecious. Is xerotolerant and cold tolerant (can grow at −7°C or higher). Propagation is performed by seeding.

References
Irish, M., Irish, G. 2000. Agave, Yuccas, and Related Plants: A Gardener's Guide. Timber Press, Portland, Oregon, USA.

〒680-0001 鳥取市浜坂1390 TEL 0857-23-3411
Copyright © 2014 Arid Land Research Center, Tottori University. All Rights Reserved.