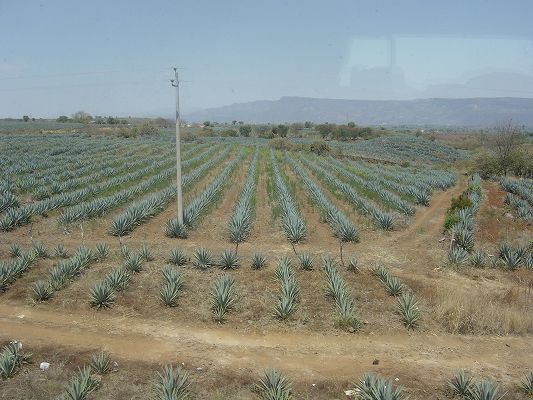 Family name: Asparagaceae
Japanese name: BURUAGABE
English name: blue agave, tequila agave
Scientific name: Agave tequilana
Country of origin: Mexico (surrounding area of Tequila City)
Description

Evergreen succulent plant with rosette height of 1.2–1.8 m and width of 3–5 m. Leaf width is 8–13 cm and length 0.9–1.2 m. The flower stalk is 5–6m. After blooming/bearing fruit for 8–12 years, it withers. Is xerotolerant, but has somewhat poor cold tolerance (capable of growing at −4°C or higher). It is a CAM plant. Propagation is primarily performed by new bulbs. The core is used as the raw material for tequila.
 
Uses:
Core (beverages)

References
Gentry, H.S. 1982. Agaves of Continental North America. The University of Texas Press, Tuscon, Arizona, USA.
Irish, M., Irish, G. 2000. Agave, Yuccas, and Related Plants: A Gardener's Guide. Timber Press, Portland, Oregon, USA.

〒680-0001 鳥取市浜坂1390 TEL 0857-23-3411
Copyright © 2014 Arid Land Research Center, Tottori University. All Rights Reserved.