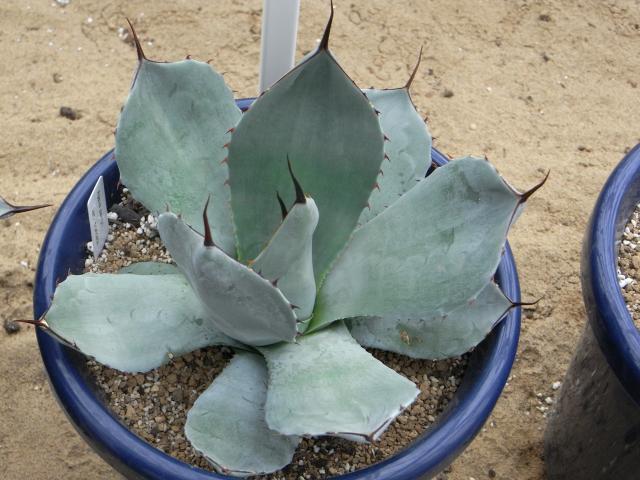 Family name: Asparagaceae
Japanese name: 
English name: artichoke agave, Parry's hardy century plant, mescal agave
Scientific name: Agave parryi var. truncata
Country of origin: Mexico (Durango)
Description

Among members of genus Agave, has small seeds and is an evergreen succulent plant. Leaf width is 7–13 cm and length 10–30 cm. Leaves are egg-shaped and are light gray or light blue gray. They are green and have reddish brown serrated edges. It forms a short stalk. The flower stalk is 3.4–6m. It is cold tolerant and can grow at −9°C or higher. It can be cultivated in any kind of soil. It forms numerous new bulbs. Propagation is performed by seeding or new bulbs.
The sap has been used as the raw material for aguamiel and the Mexican distilled Mexican liquor mezcal. Indigenous peoples used the core as food, leaves as food and raw material for fiber.
 
Uses:
Core (food, beverages), sap (beverages)

References
Gentry, H.S. 1982. Agaves of Continental North America. The University of Texas Press, Tuscon, Arizona, USA.
Irish, M., Irish, G. 2000. Agave, Yuccas, and Related Plants: A Gardener's Guide. Timber Press, Portland, Oregon, USA.

〒680-0001 鳥取市浜坂1390 TEL 0857-23-3411
Copyright © 2014 Arid Land Research Center, Tottori University. All Rights Reserved.