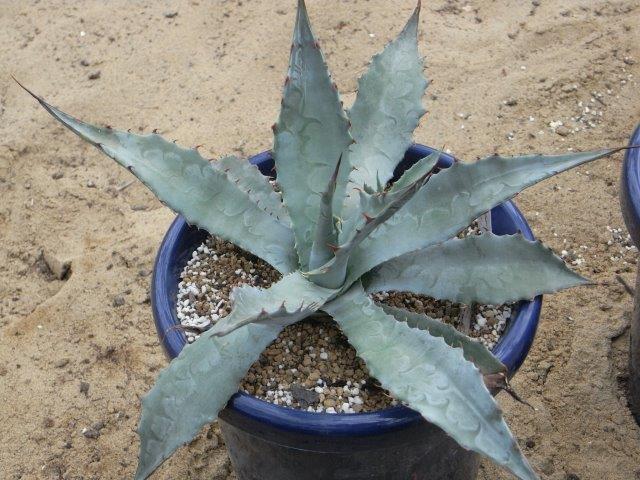 Family name: Asparagaceae
Japanese name: 
English name: Palmer's century plant, Palmer's agave
Scientific name: Agave palmeri
Country of origin: United States (southeastern Arizona, southwestern New Mexico), Mexico (Sonora, Chihuahua)
Description

Among members of genus Agave, has medium-size seeds and is an evergreen succulent plant with a rosette height of 0.5–1.2 m and diameter of 50–120 cm. It grows naturally in areas with altitude of 930–1,850 m. In its natural habitat, it may be observed alone or with a few new bulbs attached. Leaf width is 7–10 cm and length 35–75 cm. The leaves are lanceolate, have ridges and streaks, and are slightly serrated. The leaf color is light green or grayish green. The flower stalk is 3–5m. Wild birds such as hummingbirds and insects gather for its nectar, but mainly bats (Leptonycteris) are involved in pollination. Propagation is performed by seeding or new bulbs. Is xerotolerant and cold tolerant (capable of growing at −10°C or higher).
Used as raw material for mezcal (distilled Mexican spirit).
 
Uses:
bud (food, animal feed), flower stalk (food, animal feed), leaf (fiber, animal feed), sap (beverage)

References
Genty, H.S. 1972. The Agave Family in Sonora. Agriculture Handbook. No.399. Agriculture Research Service, United States Department of. Agriculture, Washington, D.C., USA. (http://naldc.nal.usda.gov/download/CAT87209091/PDF)
Gentry, H.S. 1982. Agaves of Continental North America. The University of Texas Press, Tuscon, Arizona, USA.
Irish, M., Irish, G. 2000. Agave, Yuccas, and Related Plants: A Gardener's Guide. Timber Press, Portland, Oregon, USA.

〒680-0001 鳥取市浜坂1390 TEL 0857-23-3411
Copyright © 2014 Arid Land Research Center, Tottori University. All Rights Reserved.