Research Activities
Joint Research with Universities and Research Institutes
The ALRC, as a Joint Usage/Research Center, carries out joint research with dryland's scientists belonging to other research institutes and universities. Joint researchers are encouraged to use ALRC's joint-use facilities. In December of each year, researchers and graduate students gather from all over the country to conduct a joint research symposium to give joint-use researchers and Ph. D. students an opportunity to exchange and share information on the latest academic trends and present situation of Drylands. Famous and pioneering researchers are also invited annually to deliver lectures and open seminars to students and the public.
[ The number of Joint-use Research and participants of the Joint Research Symposium]

Joint Research with Overseas Universities and Research Institutes
Joint research with overseas universities and research institutes has been conducted for developing agriculture in arid land. Recently, a joint research with the Hebrew Universitiy of Jerusalem, Israel, Beijing Forestry University, China, Agricultural Research Corporation, Sudan, Institute of Soil and Water Consevation, China and Shijiazhunang Institute of Agricultural Modemization, China have been implemented.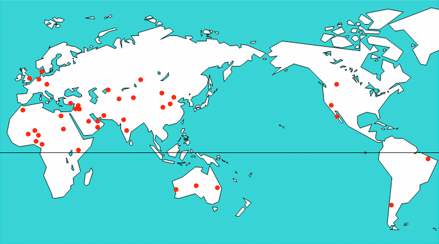 The red circles indicate research sites.
Agreements on Academic Exchange
Beijing Forestry University (China)
Beijing Normal University (China)
Xin-jiang Agricultural University (China)
Lanzhou University (China)
Institute of Soil and Water Conservation, CAS and NWR (China)
Center for Agricultural Resources Institute of Genetics and Development Biology, CAS (China)
Northwest Institute of Eco-Environment and Resources, CAS (China)
Information and Research Institute of Meteorology, Hydrology and Environment (Mongolia)
Institute of General and Experimental Biology, The Mongolian Academy of Sciences (Monglia)
Institute of Geography nd Geoecology, The Mongorilan Academy of Sciences
International Center for Agricultural Research in the Dry Areas(ICARDA) (Lebanon)
Hebrew University of Jersalem (Israel)
Agricultural Research Corpration (Sudan)
University of Khartoum (Sudan)
Arid Regions Institute (Tunisia)
National Agronomic Institute of Tunisia (Tunisia)
Bahir Dar University (Ethiopia)
National Institute of Forestry, Agricultural and Animal Research(INIFAP) (Mexico)
Mediterranean Agronomic Institute of Bari (Italy)
The University of Western Australia (Australia)
International Center for Biosaline Agriculture (ICBA) (UAE)
Visiting Scholars and Trainees from Abroad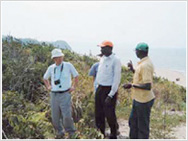 (The training course of JICA.)
Based on the JICA and JSPS projects, the training to acquire an elemental knowkedge and practice techiniques for agricultural development has been conducted for researchers and technicians in arid or semi-arid regions.
Training of Undergraduate, Graduate, International, and Research Students
The ALRC, the core of Global Arid Land Science of the Graduate School of Agriculture and the United Graduate School of Agriculture Science, trains graduate students who contribute in solving environmental problems and poverty issues in dryland. Through tecnical development for afforestation, desertification control and agricultural production, ALRC contributes in building human capacities and resources for drylands. ALRC also accept research students, postdoctoral researchers and visiting scientists. Students and academic/research staff members work together to find solutions to the dryland issues through overseas field surbeys, and through many opportunities to interact with international students and researchers who study at our center.
Laboratory of Arid Land Plant Resources
Laboratory of Arid Land Plants Resources (ALPR) has been established in April 2012 to enhance activities as the joint Usage/Research Center at ALRC, especially to promote the joint research on arid land plants.
ALPR systematically collects indigenous plant species and drought tolerant crop genotypes growing in arid land, multiplies and provides them for joint serearchers. Also ALPR evaluates the collected plants and gathers their background information to add value to the offering plant materials.
Outreach Activities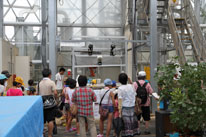 [Let's Become a Desert Doctor]
' Let's Become a Desert Doctor' held every year for elementary school students in grades 4, 5 and 6. Research staff give lectures to the students and demonstrate entertaining informative experiments.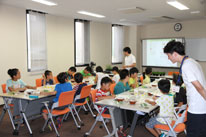 [Open House]
The Arid Land Research Facilities are used to promote public understanding of dryland's research. ALRC experimental facilities such as the Arid Dome are open to the public to promote understanding and awareness about dryland. Moreover, lecture series are given annually by ALRC's research staffs.