Access
The National University Corporation Arid Land Research Center,Tottori University
1390 Hamasaka, Tottori 680-0001, Japan
TEL +81-857-23-3411 FAX +81-857-29-6199
BUS:
get buses from JR Tottori Station's bus terminal to"JYUROPPONMATSU", get off at "HAMASAKA DANCHI-GUCHI"bus stop (about 23min.), and then walk about 12 min. (Google Map)
Bus time table
TAXI:
about 20 min from TOTTORI STATION, about 15 min from TOTTORI AIRPORT or TOTTORI UNIVERSITY
CAR:
1...LANDMARK is "Tottori Prefectual Central Hospital"
2...pass in front of Tottori Prefectural Central Hospital, then go straight toward North along the prefectural road 183.
3...keep on going straight at the intersection after getting across HAMASAKA-EZU bridge.
(you can see LOWSON and HAMASAKA elementary school on your right)
4...turn right at the top of slope (there is the post on the left corner)
5...you can see ALRC gate on your left through the residential area.
6...enter the gate, then you can see the Arid Land Dome in front of you.

[Caution]
Some car navigation systems lead you wrong entrance in Hamasaka residentional area. Don't trust them too much.
ALRC is not located in the TOTTORI UNIVERSITY KOYAMA Campus. Please pay attention!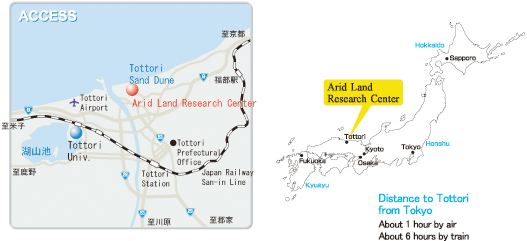 Shuttle Bus from Koyama Campus to ALRC
Time Schedule
| | | | | | |
| --- | --- | --- | --- | --- | --- |
| | ALRC | -> | Koyama Campus | -> | ALRC |
| 1 | 8:10 | | 8:35 | | 8:55 |
| 2 | 12:10 | | 12:35 | | 12:55 |
| 3 | 16:00 | | 16:30 | | 16:50 |
| 4 | 17:30 | | 18:00 | | 18:20 |
Bus Stop on Koyama campus
Near the entrance of Graduate School of Engineering Bldg. --->
Map