Top Page
Introduction of our group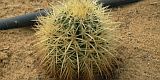 The Conservation Informatics & Plant Production Laboratory had been carrying out research in the area of horticulture (vegetables, fruits and flowers). However, After Professor Tsunekawa has been leading the laboratory since April 2005, our laboratory conducts research on the monitoring and modeling of plant production and ecosystem change in aridland.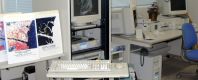 Presently, we carry out research on prediction of environmental response using a process-based ecosystem model, regional estimation of biological productivity using remote sensing and GIS, quantification and modeling of the processes of production and use of natural resources, and development of methodologies for evaluating sustainability in aridland.

The Arid Land Research Center is located away from the main campus of Tottori University. There are a large experimental field, many greenhouses and various experimental equipments in the Center. Our laboratory welcomes researchers and students from different countries (currently, there are students from China and Mongolia.) and is active in international interchange.